All About Freelance Tutoring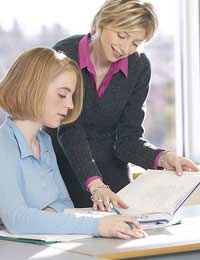 Freelance tutoring has long been a way for freelancers to gather new or "side" clients and increase their profits. Whether it's academic tutoring, language tutoring, tutoring online or mentoring other freelancers, freelance tutoring can be a great starting place, a great building block or a great freelance career in itself.
Academic Tutoring
Academic tutoring is as easy as helping students with their homework or studying for exams. Many freelancers won't immediately think of this kind of work, but there is certainly no shortage of secondary and university students in need of assistance with their courses.
If you are a freelancer with a third level (or higher) degree in a specific subject then you'll likely find that you can help others with this or related subjects. You may even be able to get yourself registered with a particular school or organisation as a recommended tutor. Teachers and lecturers in particular will likely find clients to tutor in academic subjects.
Language Tutoring
Even if you only speak one language you can still very well turn yourself into a freelance language tutor. With the number of immigrants, migrants and students who come to the United Kingdom each day there is a ready market to help others learn English, and with the number of people interested in moving and travelling abroad there are ready markets for most other languages as well.
If you are interested in tutoring for academic or business courses then you may need certification, but if you are interested in helping others learn the language socially or informally then you may not need any kind of accreditation.
Tutoring Online
Tutoring online can be a rich source of new clients for freelance tutors. This tutoring may be in the form of chatting online to help someone through homework, reading and editing papers online or offering your own courses and seminars through the Web.
Tutoring online does require a good amount of technical and ICT knowledge, as well as enough equipment to make it feasible and useful for both the tutor and the student. Whatever way you work it, tutoring online means reaching clients around the world and the chance to build up a big business but it usually also requires a substantial initial investment to get set-up and working.
Mentoring Other Freelancers
Most professionals would not describe themselves as having a tutor, but mentors abound among freelance workers and mentors, whether they admit it or not, do tutor others. Whether it's by offering advice, helping them find new markets, brainstorming ways to advertise, figuring out a future plan or helping them make decisions regarding their careers, mentors do in fact provide many of the same skills and services as traditional tutors. Online mentoring, face to face mentoring and phone mentoring are all common among freelance professionals.
Freelance tutoring is an accessible way to start and build a freelance career. Academic tutoring, language tutoring, tutoring online and mentoring other freelancers are all aspects of freelance tutoring that freelancers can explore. However, freelancers may want to investigate becoming accredited as a tutor or teacher so that they can reach more students, and freelance tutors should always keep in mind that their reputation for good results is always important for future business.
You might also like...