All About Freelance Genealogy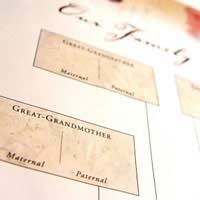 A keen interest in investigating their own or others' ancestors is often all it takes for some people to engage in freelance genealogy.
Genealogy, or the study and tracing of families and ancestors, is a fairly common hobby that can generate income if an amateur genealogist decides to freelance. Freelance genealogy can include many different types of work, such as tracing family trees, finding documents, writing family histories and exploring a variety of specialised topics.
Freelance Genealogy: Family Trees
At the most basic level freelance genealogists help clients put together their family trees. Investigating families usually requires interviewing the client to get as much background information as possible about his or her family, and interviewing older living relatives can be very helpful. Looking over a variety of family photos, letters, diaries and documents will also help a genealogist begin his or her search for information. Most freelance genealogists charge for this research as it is a vital part of their investigations.
Freelance Genealogy: Finding Documents
Some genealogists search for copies of family documents while others may outsource this task. If documents are in another country, for example, then a genealogist may ask others to go to track down the actual piece of paper.
Usually libraries, archives and records offices do offer the option of writing in and obtaining a copy but often there is a fee for this service and it requires a long waiting period. Freelancers who can offer their clients easier access to hard copy documents should use this service as a unique selling point.
Freelance Genealogy: Family Histories
Once a freelance genealogist has a good deal of information on a family (s)he may be asked to write up the findings in the form of a family history. If a freelancer agrees to do this work for pay then (s)he must be able to provide a professional result. If (s)he can not, then it would be good business for him or her to have a freelance writer to recommend to clients. This writer can then recommend the genealogist to their clients and both should enjoy new business from their relationship. Genealogists who do write family histories should be able to present their findings in professionally bound volumes for their clients to treasure. Cultivating a relationship with a local printer and/or binder is therefore in many genealogists' best interest.
Freelance Genealogy: Specialised Topics
Some freelance genealogists specialise in specific topics. For example, military, African American, Jewish, heraldry and immigration specialisms all exist within the wider genealogy world. Each country's individual history will also spawn specialisms, so for example there may be genealogists in the United States who specialise in Civil War or Old West topics. While specialising on a topic within genealogy may cut down the number of clients who need the genealogist, it also allows the genealogist to market him or herself as a specialist and charge corresponding rates. Genealogists can also continue to conduct more general research while cultivating a particular specialism.
Freelance genealogy is a business based on finding the ancestors of others. Most freelance genealogists investigate a client's family tree, while some also find documents for their clients, write or recommend others to write family histories and specialise in particular genealogical topics.
You might also like...
i never new you could get profesional genealogists. great idea. I never have the time to do it properly - have bits of envelopes with stuff scribbled on by relatives etc and never get time to do anything with it. I could just hand it all over and get it done for me. I now need to know where to find one of these people!
Didntknowthat
- 22-May-12 @ 5:08 PM