Freelance Business Consultant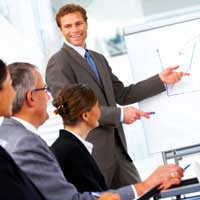 "Freelance business consultant" is a broad term, and one that really doesn't convey any information other than that the freelancer works in business. Even that is vague. What kind of business? Doing what? In which areas?
In order to successfully freelance as a business consultant, individuals will need to answer these questions until they have a focused job descriptions for themselves. After all, only when they know what they do – the types of business consulting - can they share this information with others.
Becoming a freelance business consultant is not necessarily hard, but it does require a certain degree of business training and experience, sellable business skills and a proven business track record.
Types Of Business Consulting
There are many different types of business consulting recognised in the business world today. Communicating consulting, consulting for e-businesses, human resources consulting, management consulting, small business consulting and technology consulting a but a few areas in which a freelance business consultant may specialise. Working as an operations consultant, marketing consultant, organisational development consultant or strategic planning consultant are also options open to freelancers.
Business Training And Experience
A successful business consultant is usually one who has business training and experience. Very often this training involves at least third level education, with further studies for a degree such as a Masters in Business Administration (MBA). However, education does not always trump experience. A school leaver who has never sat an exam but makes a go of his or her business anyway can just as easily become a freelance business consultant as anyone else.
Sellable Business Skills
Freelance business consultants must have something to offer their clients. That is, they must have sellable business skills. What are their unique selling points? What can they offer that other consultants can not? What can they offer that their clients need? In answering these questions, freelance business consultants can focus on their own sellable business skills and advertise these skills in order to set themselves apart from the crowd.
Proven Business Track Record
Perhaps more than anything else, a successful freelance business consultant needs a proven business track record. Book learning and unique selling points are great, but clients generally want to hire someone who can deliver results. A good track record is evidence that a freelance business consultant can do just that.
This track record should be highlighted on a consultant's CV, and it can include any projects that a business consultant was involved in (whether they were completed freelance or not). However, because this track record will act a bit like references for the freelance consultant there should be no embellishment or embroidery to these past successes. A client has every right to check on this history and being caught out in a lie is enough to kill a freelance consultant's career on the spot.
A freelance business consultant can do almost anything. There are many types of freelance business consulting, but all freelance business consultants need training, experience, sellable skills and a proven track record to be a success in any one of them.
You might also like...