Freelance Illustrating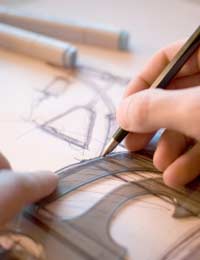 Some people are lucky enough to launch into freelance illustrating without having to work for someone else first, but for the most part freelance illustrating requires the freelancer to have set clients who want to work with them before they decide to give up working for an employer. Though there is a huge audience around the world, and each client enjoys different types of illustration, gathering clients without a portfolio of work and stable of previous projects is less likely.
Freelance Illustrating Training
Training to be a freelance illustrator can be wide and varied. Some freelance illustrators will have done degrees in art, graphic design or other related subjects while others may not have gone to university at all. Still others may have taken a skills training course and yet others might just have a natural talent that clients find attractive.
However, it is usually helpful for freelance illustrators to be able to point to some formal training as a unique selling point, and going through formal training usually offers them an immediate support system and network of other illustrators. For these reasons, engaging in some form of training is usually a good idea for those who would like to become freelance illustrators.
Putting Together A Portfolio
Every illustration that an illustrator completes has the potential to go into his or her portfolio. Even if the illustration was not commissioned or bought by anyone it may still have a place in a portfolio if it shows off a particular skill or is a particularly good representation of the illustrator's work. However, it is not advisable that a freelancer's portfolio include many illustrations that were not completed for or bought by clients.
A portfolio not only shows off the illustrator's work, but highlights his or her past jobs as well. This means that including pieces done for others is an important part of putting together a portfolio.
Finding Freelance Illustrating Work
Where a freelance illustrator finds work will depend upon the types of illustration that (s)he completes. For example, illustrators who enjoy Web work will likely find work on Internet job boards and via other Web-based channels.
Illustrators who prefer to work with magazines or books will find work with publishers. Illustrators who enjoy creating logos and product designs will find work with corporations and organisations. The type of illustrations, as well as the niche for these illustrations, will generally guide a freelance illustrator toward potential channels for new work.
Exploring Freelance Illustrating In The UK
In the United Kingdom, illustrators can find more information about going freelance from the Creative Freelance Association (www.creative-freelance.org.uk) or the Association of Illustrators (www.theaoi.com). Discussing freelance opportunities with illustrators who have already had success with freelancing is also a good idea. Tapping into resources offered by colleges or training courses, working with former employers and starting out in the local community are also steps that an illustrator can take to get his or her freelance career off the ground.
Freelance illustrating is a dream job for many illustrators. Getting good training, putting together a portfolio, searching the right places for work and exploring freelance illustrating in the UK are all things that illustrators can do to increase their chances of freelance success.
You might also like...