How To Get Into Freelance Graphic Design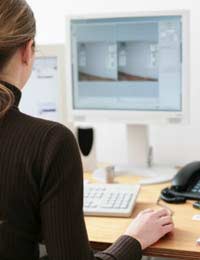 Graphic design is a type of art that communicates information visually to its audiences, sometimes without any words incorporated with the images. In their designs, graphic designers will use images, font and even page layout (including the spacing of objects, the use of blank space, etc.) to get across a message. Advertisements, product packaging and even road signs are all examples of graphic design.
If you are interested in freelance graphic design work, consider how you will gain experience in graphic design, how you will gain graphic design clients and what you know about your own creative process.
Gaining Experience in Graphic Design
Before a graphic designer decides to go freelance usually (s)he will have a great deal of experience in graphic design. Obviously one way to get this experience is to both study graphic design and work as an employee for a graphic design firm or agency. The longer you work in graphic design, and the more clients that you are involved with, the more you will have to show potential clients when you do decide to work freelance.
If you do not want to work as an employee, then you may also be able to put together a graphic design portfolio by donating your skills to clients such as educational, religious or charity organisations.
Finding Graphic Design Clients
A great source of potential freelance graphic design clients is your own community. Working with community groups and local businesses can help you solidify a client base for your freelance graphic design business. The Web is also a rich source of potential clients. Individuals and businesses from all over the world need graphic design services every day, and many websites exist on which graphic designers can bid for projects. Online community notice boards such as Craigslist (www.craigslist.com) can also help graphic designers find clients in their own home cities and major cities abroad.
Understanding The Creative Process
When you work as a freelance graphic designer you may very well be working alone for large periods of time. This means that you will need to understand your own creative process so that you can continue creating designs even when you feel lacking in inspiration and motivation.
Understanding what inspires and motivates you, and how you can tap your creative potential even what it feels depleted, will help you carry out the day to day tasks required for creating graphic designs. Knowing how to switch gears and carry out the more mundane tasks such as answering ads, submitting portfolios, invoicing clients and filing paperwork is also important for freelance graphic designers. All freelancers must be able to carry out the administrative tasks of their business as well as the more creative tasks associated with their work.
Freelance graphic design is a job that requires great creativity and attention to administrative details. Gaining experience in graphic design will be important for potential freelance graphic designers, as will finding graphic design clients and understanding their unique creative processes so that they can continue to work successfully even during periods of less inspiration or motivation.
You might also like...