What Is Freelance Work?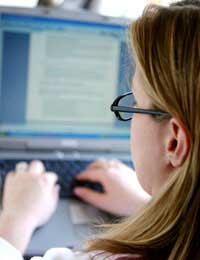 While there is no single definition of "freelance work" that is used around the world today, it is usually agreed that freelance work is work done by an independent contractor who is hired specifically on a per project basis. This means that most freelance work is carried out without long-term commitments to employers and that those who work freelance may be working on a different project for different employers at any one time. However, because "freelance work" is such a broad term, it may be used in many different ways by many different people. In specific situations it is always best to ask for a specific definition of the term so that everyone knows what they are discussing.
Independent Contractors
"Independent contractor" is a fancy way of describing someone who is self-employed. Freelance workers are self-employed in that they are not an employee of any client but rather take on specific project work. Usually this means that the freelance worker receives compensation for the work done only (with possible expenses for supplies used as well) but that there is no compensation for things such as health care, maternity leave or pension.
Freelance workers are also not taxed as employees, so must submit their own taxes as self-employed individuals. All of this then means that an independent contractor, a freelance worker, is someone who does work for a client but is not employed by that client.
Specific Projects
Freelance workers contract their work for specific projects only. For example, those who offer freelance writing services may contract on a per-article, per-newsletter or per-book basis. Those who offer freelance photography services may contract on a per-photograph or per-event (wedding, party, etc.) basis. Because they negotiate for themselves, freelance workers must become familiar with general contract clauses such as rights (who has the right to use the work, and when and where) and warranties (what the freelancer warrants about the work, such as that is it original and their own). Freelance workers must also become familiar with fair and competitive compensation in their industry so that they can effectively price their services and stay in business.
Limited Time Commitments
Freelance workers, such as those offering writing services and freelance photography services, contract for limited times only with each client. When one project ends, either another one begins or the freelance work and client part ways.
Due to the nature of the industry many freelance workers work from home so that they will have a well-equipped, comfortable office no matter who they are currently working with. However, "work from home" is not code for "not working" since the time that freelancers are not on projects must be spent marketing, drumming up new business, dealing with invoices and payments and much more. Freelancers should not be surprised that much of the work that they put into their business is not part of any particular project but rather is "off the clock" so to speak and will not be paid for by a particular client.
"Freelance work" is a broad term that encompasses many types of workers, many types of jobs and many types of services. Working as independent contractors on specific projects with limited time commitments are all hallmarks of freelance workers and freelance work.
You might also like...
Brilliant writing ! this article are help me most.
Volmanus
- 24-Apr-13 @ 1:34 PM