Sharing a Freelance Workspace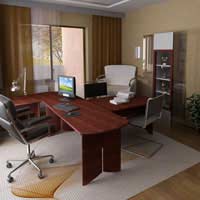 Few freelancers are lucky enough to start their careers with dedicated, private workspaces.  Instead, many share a workspace at home with other family members or go in for a shared workspace with other freelancers.  If you are considering sharing a workspace, be sure to pick a place that will allow you to work productively, think about questions if you plan to interview other freelancers interested in sharing your space and draft a few basic rules so that no one will be interrupted while trying to work.  
Picking A Shared Freelance Workspace
Every freelancer has the opportunity to pick his or her own workspace, even if it comes down to a decision between the kitchen table or a corner of the attic.  Perhaps the two greatest factors affecting this decision are personal preference and money. Consider, if money were no object, what your ideal work space would look like.  Would it be in your home or somewhere else?  What would the view look like?  Where would it be located?  How much space would you like?  How much contact would you like with others?  If you are aware that you will have to share your workspace then think about who you might like to share it with, when you would prefer to use it and how much you can afford in terms of rent, office equipment and associated expenses.  Work out what you would like and what you can afford early so that you don't waste time coming up with plans that won't be feasible later on.
Interviewing Other Freelancers to Share Your Workspace
If you are lucky enough to be able to hand-pick the freelancers with whom you will share your workspace then don't hesitate to question them about their own work and habits.  Establish what they do, when they like to do it, if they require specific equipment, how long they can commit to the workspace, if they can afford to share the particular space and any requirements they may have for sharing a space.  And don't be afraid to note which topics you are flexible about and which you are not.  If there is something that particularly spoils your productivity, such as chatting while working or listening to music, then make sure others know this before they agree to share a workspace with you.  
Drafting Basic Rules for a Shared Freelance Workspace
Once you decide on your workspace hammer out a few basic rules, whether they will be between yourself and other professional freelancers or with your children.  Common rules include who gets to work where and when, if there are quiet hours in which no interruptions are tolerated, how the physical space will be split, who can use the office equipment and who will clean the workspace. Other issues, such as if anyone else is allowed to use the space, who is allowed to hold keys to the space and if there is any time that others are not allowed in the space, may also require discussion.  Finally, there is no harm in agreeing on noise levels if you will be using your workspace at the same time as others, but remember that some degree of flexibility will always be required to successfully share a workspace with others.
Sharing a workspace can be an incredibly successful arrangement if you enjoy the space and get along well with those who also use it.  To this end, make sure that you pick a space that will be conducive to your productivity, interview other freelancers if you plan to share your space with them, and agree to basic rules with all who share the space.  With everyone on the same page your chances of successfully sharing a workspace will sky-rocket!
You might also like...