Building a Freelance Client Base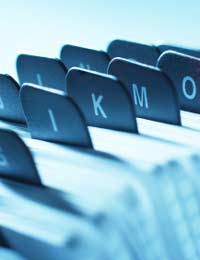 Building a solid freelance client base is no small task. As a freelancer, there is no client who must stick with you unless you fulfil their requirements and there is no client who will seek you out to give you your first chance in the business. Always remember that to do freelance work is a privilege, not a right, and it is one that requires you to build a client base around quality work and customer service. As you build, remember to market yourself, pay attention to your reputation, add value to your services, cooperate with others and reach out to former employers. These are all tricks of the trade to help build and maintain a healthy client base.
Market Yourself
No one can hire you unless they know about you, so a large part of freelance work is marketing yourself. Developing a website, 'blog and newsletter are all ways to market yourself, as are placing ads, writing letters to the editor about issues in your industry, donating services to good causes and sending postcards or letters of introduction to potential clients. In the pre-Internet days "cold calling" potential clients was also viewed as a valid marketing technique, though these days you might find more efficient methods.
Pay Attention To Your Reputation
As a freelance worker your reputation may well be the only thing that wins or loses you jobs. Paying attention to your reputation means paying attention to how clients view you and constantly communicating with them to provide better services and fulfil more of their needs. This does not mean grovelling to clients or accepting unfair labour practices, but it does mean that you'll need to remember that though you are a freelancer you do work for others, and at the end of the day it's whether or not those others are satisfied that will build or ruin your reputation.
Add Value
Some potential clients may question your rates or hope for a discount, but you don't need to short-change yourself in order to build your client base. Instead, try to keep your rates as you have set them but instead offer extra value for a client's money. For example, if you are a freelance writer hired to write a company's website you could also provide that client with suggested update topics for a set period of time (for example, six months or one year). Or you could offer them a list of related resources that might help them find topic ideas themselves. Little touches that add value to a client's project, and the cheque they will eventually write you, are often appreciated much more than a freelancer will know.
Cooperate With Others
A great way to build up a freelance client base is to cooperate with others. For example, teaming up with a local business to offer services may generate extra clients, as may an arrangement of recommending complementary workers. For example, a freelance writer who arranges to recommend a particular photographer, and to have that photographer recommend him or her, means another avenue by which new clients will arrive. However, freelancers should take care to cooperate in this manner only with those whose work they truly admire and trust – otherwise they might lend their names to substandard work and have their reputation tainted.
Reach Out To Former Employers
Just because you have gone freelance doesn't mean you can't still work with a former employer. In fact, many freelancers find that former employers become their first freelance clients. When you are building your client base, don't forget to let past bosses and colleagues know about your skills and rates and you might be surprised by who ends up giving you a call.
Building a freelance client base requires a lot of work. Marketing yourself, paying attention to your reputation, adding value, cooperating with others and reaching out to former employers are all ways that you can begin to build a solid freelance client base.
You might also like...