Freelance Animal Training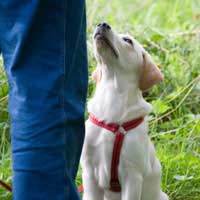 Freelance animal training is a job that can really take off in an area full of pets. Successful freelance animal trainers usually need training and experience in working with a variety of animals, and offering associated services such as animal care, animal grooming and even dog walking can all help to supplement a freelance animal trainer's income.
Training And Experience Working With Animals
The most successful freelance animal trainers are those who can work with a variety of clients (those being the animals). Animal trainers who can only work with, for example, dogs are specifically dog trainers. But animal trainers who can work with dogs, cats, birds, monkeys and more can thus work with many more clients.
Many pet owners will want to know why a freelance animal trainer is qualified to work with their pets and this is always a legitimate question. Highlighting any training that (s)he might have, such as veterinary training, studies in zoology or animal management, as well as experiences such as working with animals or growing up around animals, is a good idea for freelance animal trainers looking for new clients.
Animal Care Services
Many freelance animal trainers supplement their incomes by offering related pet services. Caring for animals, whether it be by kennelling dogs, offering "day care" for pets or feeding cats while the owners are away, is one way that freelance animal trainers can increase their business. Some freelancers may find that they can make arrangements with local animal shelters and pet shops to work with them as well. However, freelancers who want to work with organisations, including animal hospitals or zoos, will likely need to be able to prove full and adequate training before being allowed to work with them on a regular basis.
Animal Grooming Services
Another related service that freelance animal trainers often provide is animal grooming. From baths to trims to getting dogs and horses ready for shows, animal groomers must be able to prove their skills in this area. Putting together a "before and after" portfolio from previous grooming jobs might be a good way to advertise these skills. A variety of animal grooming training programmes exist, including some certifications, so investing in such a programme might be a good idea for a freelancer interested in expanding his or her business.
Dog Walking
Dog walking is another service that freelance animal trainers can offer their clients. In general dog walking is not a lucrative job but it is another way to increase revenue and attract more clients for freelance animal trainers. It is also a service that an animal trainer may be engaged in anyway if (s)he enjoys walking for health or to exercise personal pets, so adding some paying clients to the walk means that (s)he'll get paid for something (s)he would do anyway.
Freelance animal training is a great job for those who enjoy working with animals. Offering animal care services, animal grooming services and even dog walking are all ways that freelance animal trainers can attract and increase business.
You might also like...