All About Freelance Image Consulting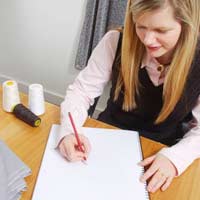 A freelance image consultant helps clients refine their overall "look". This often means doing work with clients to help them decide upon an overall image that will best suit their lifestyle and business needs. The image created will also likely take into account the client's lifestyle and business goals as the need for a new image is usually born from a desire to move forward in one of these areas.
When working with clients, freelance image consultants often help them decide upon a new image, fine clothes and accessories to suit this image and develop a grooming regime to complement this image.
Deciding Upon A Client's Image
The kind of image that a client presents should be related to that clients goals and lifestyle. For example, it would be no use to create a highly sophisticated image for a child care worker who is more comfortable in relaxed, flexible clothing.
Freelance image consultants have the luxury of hand picking their clients, so they should have the luxury of spending time discussing their clients wants and needs as well. All good freelance image consultants will agree that they need to know a certain amount of information about their clients before they can begin work and begin to create an image that will work well for the client.
Image Consulting and Clothes
A major part of a freelance image consultant's brief will usually be to select clothes, shows and accessories that both flatter the client and create the overall look that the client desires. Because of this work with clothing, many freelance image consultants find that a background in fashion and fashion design is quite helpful.
Freelance image consultants will usually have some knowledge of current trends and have relationships with shops or designers where their clients can find the kind of clothes that best fit their desired image. In return for bringing new customers to these shops, many freelance image consultants will be offered a discount for themselves and their clients. This relationship to particular shops can then become a unique selling point for freelance image consultants when they wish to recruit new clients.
Image Consulting and Grooming
Another large part of freelance image consulting is usually to advise clients on the type of grooming regime that will be suit their new style. This grooming regime will generally include hair style and colour, dental care, nail care, make up application and may even be so detailed as to include brow care, skin care and even signature scent. Again, many freelance image consultants will develop relationships with particular salons, spas, and even medical professionals such as dentists and dermatologists. These relationships can become unique selling points for freelance image consultants and may also generate discounts for their current and future clients.
Freelance image consultants help their clients create new images to achieve either personal or professional goals. This means that freelance image consultants spend time working with their clients to discover the type of look that they would like and would best suit their body and lifestyle, selecting clothing and accessories to build this image and developing a grooming regime to complement this image.
You might also like...