Registering with an Online Freelance Job Site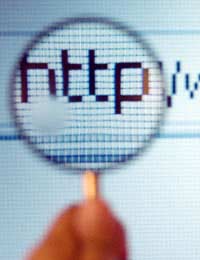 Savvy freelance workers know that there are often jobs to be found on an online job site. Registering for a variety of these sites may help freelance workers find new jobs, make new contacts and get to know industry trends, vocabulary and ad patterns. However, to make the most of online job sites freelancers need to think carefully about their online profile, how they will bid on jobs, if they will market the site or on the site and if they are willing to pay for online job site services.
Online Profiles
Registering with an online job site means that freelancers will need to create online profiles. These profiles must be professional, a lot like a mini CV or resume, but they should also include leisure activities if they may be relevant to the freelancer's work. For example, languages spoken, "interest" courses completed and special skills or talents that are not necessarily used on a day to day basis might all be included in an online profile.
It is not advisable that a freelancer provide their home address or telephone number, and instead a business email should help to keep their identity safe. Some sites even allow members to create a mailbox on the site, thus keeping all of their personal information private. If a login or username is needed, freelancers should take care to keep their chosen title professional and appropriate at all times.
Bidding On Jobs
Some freelance sites require members to bid on jobs, which often results in a race to the bottom as freelancers try to undercut each other in order to win the work. Unfortunately, these freelancers have no one to blame but themselves. If freelancers only bid an appropriate fee for a project then clients would not expect cut rates to be the norm. All freelancers must decide their own rates, and how low they are willing to go, if they routinely find themselves bidding on jobs.
Marketing The Site
Some sites ask freelancers to market them, such as by including a link to them on the freelancer's website or blog. Some freelancers are fine with this. Others request (and may or may not get) a fee. Some freelancers do not want to be seen endorsing a particular site. Generally, marketing a site is not a condition of membership so freelancers should feel free to say no if they do not want to be involved.
Marketing On The Site
Some freelancers see online job sites as a good marketing opportunity. After all, employers routinely use the site and may notice the ads. For this reason some freelancers ask to advertise on online job sites. Again, this will be something that each freelancer decides on his or her own. However, sites should not require paid advertising from a member as a condition of membership.
Paying For Online Job Site Services
Some online job sites require a fee for use and each freelancer will need to decide if this fee is worth it. Some job sites also offer other paid services, such as professional resume writing, professional graphic design for member's profiles, fees for "better" standards of membership and more.
Before a freelancer splashes the cash, (s)he should attempt to find out what (s)he will get for the money and speak to others who have already availed of these services. It may be that the site provides quality work and outstanding service, but it also may be that it's just more revenue for the site and what they actually provide is shoddy and inadequate.
Registering with an online job site is often a smart move for freelancers looking for more work. Creating an online profile, bidding on jobs, marketing the site, marketing on the site and paying for online job site services are all issues that are often related to using online job sites.
You might also like...