Working for Former Employers as a Freelancer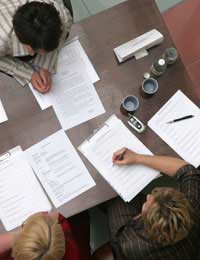 A freelancer's first client might not be too hard to find – in fact, it may be one of the freelancer's former employers! This might be because freelancers tend to freelance in the field that they worked in full time so taking on projects for a former employer is a great way to ease away from the security of a full time job.
Employers may also like this arrangement because they have an experienced freelancer willing to work with them on specific items and won't have to train anyone in just for those assignments. Those interested in freelancing for former employers should raise the subject before they leave their jobs, notify these potential clients of services offered and freelance rates, and keep in touch with former employers to take advantage of work that may come up in the future.
Raising the Subject Prior to Leaving Work
Prior to leaving their day jobs future freelancers should feel free to let their employers know their plans and ask if there are any projects that they might be able to take on in a freelance capacity. It may be that their employers have never considered this arrangement, but once presented with it see the benefits.
Future freelancers should remind their employers that they are already trained for the projects, know the company style, understand what is needed from of the assignment and how the assignment will fit into the company's overall workload. However, freelancers should be sure to make clear that they are not proposing to work from home in their current capacity but to take on freelance work on a per project basis.
Notifying Potential Clients of Services and Rates
When future freelancers pitch the idea of freelancing to former employers they must remember that these audiences are no longer their employers but are potential freelance clients. As such, freelancers can pitch to them whatever ideas they have, describe the services that they can offer and the rates that they will charge. This can be quite a change since until recently a freelancer was used to having these aspects more or less dictated by the employer, so remaining polite and professional is important. However, if a freelance believes that a former employer will not be able to accept this change in roles and relationship then it might be better to approach new potential clients.
Keeping in Touch with Former Employers
Even if employers do not have work to assign to freelancers right when a freelancer leaves his or her job it does not mean that a freelance will never work with his or her former employer. In fact, freelancers who are interested in working with former employers should treat them as any other clients and keep in touch with newsletters, emails, postcards, flyers or whatever other means of marketing they choose. Sending holiday cards is another great way for freelancers to keep in touch with former employers. However, freelancers should be sensitive to the fact that former employers may not work with freelancers and should not be hurt if they are not able to have a new relationship with them.
Working with former employers can be successful for some freelancers but unsuccessful for others. Raising the subject prior to leaving their jobs, notifying these potential clients of services and rates and keeping in touch with former employers are all good ideas for freelancers who would like to pursue such arrangements.
You might also like...