How and Where to Place Freelance Work Ads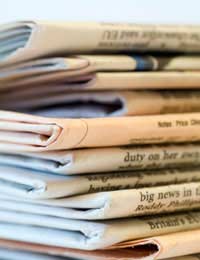 Many freelance workers find it useful to place advertisements of their skills and services in order to attract new business. To do this, freelance workers must be comfortable with writing freelance work advertisements, placing these ads, fielding replies to these ads and following up on these ads.
Writing Freelance Work Advertisements
Writing freelance work advertisements requires both information and flair. The ads must be snappy enough to catch someone's attention, but offer enough information to give them a feel for the freelancer's services and skills, not to mention rates. Thinking of these ads as small promotional leaflets can often help freelancers strike just the right tone. "Professional with personality" is a good goal for the tone when writing a freelance work advertisement.
Placing Freelance Work Advertisements
The best options for placing freelance work advertisements may depend upon many factors. The price of the ad, when and where it will be published, how many people will see it and what type of people will see it (a general audience, a trade audience, students, etc) will all influence the best options for placing freelance work advertisements.
Many freelancers like to place ads on the internet and this is usually a good idea. A great deal of work is conducted across the internet today, so to shun these advertising opportunities in favour of only local and print ads would usually be a waste of potential.
Fielding Replies to Freelance Work Advertisements
When freelance work ads are placed, the freelancers behind them must be ready to field replies to these ads. Freelancers should be ready to greet all enquiries professionally, answer questions as needed and repeat the same information over and over for new clients. Having information packs and letters of information ready to send out should help freelancers reply to many of the questions that potential clients may have. Freelancers should also be aware that placing new ads usually drums up new business, so having some room in their schedule to take on new projects is usually a good idea as well.
Following Up on Freelance Work Advertisements
Some advertisements work better than others, so freelancers should be willing to follow up with their ads and do the research needed to find out how well their ads are working.
Asking clients where they saw the ads or how they found out about the freelancer will help freelance workers get an idea of which ads are drawing more of an audience than others. If no new work is being generated then it is a safe assumption that the ads are not working. Manipulating the ads a little to find out what works best and generates the most new business is a good way for freelancers to keep their marketing fresh and their ads working – month after month or year after year.
Placing freelance work ads can be a great way for freelancers to drum up new business. Freelancers should think long and hard while writing the ad, placing the ad, fielding replies to the ad and following up on the ad to make the most of these marketing opportunities.
You might also like...