Gaining Work from Client Referrals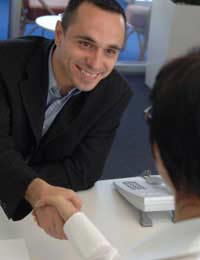 Freelance workers depend upon having a certain number of clients in order to keep their businesses going. Some freelance workers may only need one steady client in order to work, though most will want a mix of clients in order to have consistent projects and so as to not be caught out if one client no longer needs them.
Once a freelancer has a core group of clients, (s)he may find that referrals from these clients is a great way to gain new business. Freelancers may try to run client referral schemes or ask clients for referrals when appropriate, and they will always want to welcome new clients gained from referrals.
Client Referral Schemes
Client referral schemes don't need to be big, nor do they need to be bold. Sometimes traditional schemes such as reducing a client's bill for each successful referral or offering a small "finders fee" for clients who successfully refer others works out very well.
Freelancers may also decide to offer a small gift to clients who give them referrals, or offer value added services at no extra charge in the future. However, freelance workers must always make sure that client referral schemes are advertised professionally and to all clients. Otherwise it could like as though a freelancer is attempting to buy off a few targeted clients rather than allowing their work to be what ultimately sways others.
Asking Clients For Referrals
Inexperienced freelancers are often mortified by the idea of asking an existing client for a referral, but the longer a freelancer works the more comfortable (s)he will become about judging when this would be an appropriate action. For example, waiting until a client gives a freelancer a compliment is a great time for a freelancer to say thank you and ask if that client wouldn't mind spreading the word. Freelancers also don't have to ask this face to face, they can wait to do so at the end of a project or after receiving payment. Particularly shy freelancers can even do so in a letter by sending out a small pack of promotional materials and asking the client to pass them along if they ever have the chance. A small supply of business cards, fliers, calendars or other easy promotional materials usually work best. Alternatively, the client could also link to the freelancer's website or blog in order to drive more traffic to that freelancer.
Welcoming New Clients
Freelance workers should only run client referral schemes or ask for client referrals if they are ready and able to take on new work. Freelancers should also be willing to welcome new clients at any time, including when they might be in the middle of a big project. To this end, freelancers should always have welcome packets or introductory information available in order to make contact with an interested new client immediately.
Freelancers should also be organised enough to know which new clients were referred from past clients and when they will be able to start working with a new client if everything works out successfully. Giving prospective clients a warm, well-orchestrated welcome will go far in turning them into new clients.
Client referrals can help freelancers greatly expand their business. Some freelancers choose to run client referral schemes or ask existing clients for referrals. However, no matter how referrals are made, freelancers should always be ready and willing to welcome newly referred clients or else it could become awkward for everyone involved.
You might also like...