Finding Freelance Work with a Local Business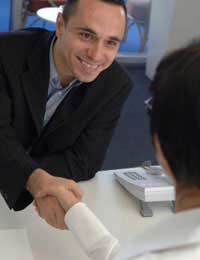 Working with a local business has many benefits for freelance workers. Freelancers may decide to recruit local business owners as clients, or to offer special promotions in association with a particular local business. Either way, teaming up to do business with a local presence will often help a freelance worker's own business to boom.
Benefits Of Working With A Local Business
There are many benefits for freelancers hoping to work with a local business. To begin with, they get to establish themselves in the local area since the business already has a customer/client base. Their work will be seen by those who might never otherwise see it, and often they can take advantage of the business' contact lists for their own direct marketing campaigns.
Working with a local business will also help freelancers gain a reputation in the community, so the word of mouth referrals should help to bring in new business, and freelancers can usually expect referrals from the business (and make them as well). All of these things should help drive up business for a freelance worker.
Recruiting Local Business Owners As Clients
Some freelancers like to complete work for a local business, or in effect make the local business a new client. This will require marketing, no doubt, to convince the business owner of why (s)he needs the freelancer's services, but it will usually also require a personal touch. When freelancers and business owners all work in the same community it would be somewhat expected that they would meet face to face at some point. Also, this meeting will generally take place in the local business since it is the freelancer pitching to them.
If the business owner does not need the freelancer's services at the moment, a freelancer could also suggest a joint promotion to help both increase business.
Offering Special Promotions With A Local Business
Offering special promotions with a local business is a great way for a freelancer to get clients flowing back and forth between the two. This should be good for both businesses.
Joint promotions don't need to be fancy, they can be as easy as each business referring the other. They could also include discounted "packages" for clients who use services of both businesses, added bonuses for clients who use services of both businesses and/or reciprocal advertising. However, both the freelancer and the local business owner will want to be confident in the other's services because making a referral or otherwise recommending someone else can be risky. If the other individual does not live up to the recommendation then clients could be lost and business could go down for both.
There are many benefits of freelancers teaming up with a local business. Freelancers may do this by recruiting local business owners as clients and/or hosting joint promotions of a local business. However, freelancers will need to be confident in the local business so that they do not attach their own name to sub-standard goods or services. Doing so could have a grave effect on their client base and business.
You might also like...