"Cold Calling" Sourcing Potential Freelance Clients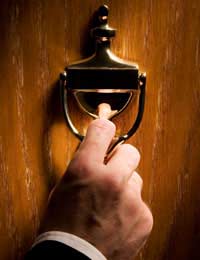 Cold calling is a sales technique that involves sourcing potential work clients, calling them in the first instance and selling goods or services. In the past cold calling was considered one of the best sales techniques around, but since the advent of the Internet and email it has lost some of its popularity. Freelance workers might still find that a certain amount of targeted cold calling will help them keep up their business levels.
Cold Calling Targets
Knowing who to cold call will help increase a freelance worker's rates of success in this area. Coming up with an ideal profile for potential work clients is a great way to decide which of them will get a cold call. For example, freelance workers should decide what types of clients they would like, how much revenue these clients will make and how often they would need a freelancer's help. Freelancers should also decide who they would like to speak to in an organisation and exactly what they hope to gain from the cold call.
Finding Cold Calling Targets
Once an ideal profile has been created for potential work clients, freelancers must begin sourcing actual organisations or individuals who fit this profile. Industry directories, membership lists from professional associations, alumni lists from certain colleges or universities and lists of organisations and individuals who recently advertised for help on online job sites can all be great starting places for freelancers sourcing potential cold call targets.
Cold Calling Scripts
There is no reason for a freelancer to reinvent the wheel every time (s)he makes a cold call. Instead, freelancers can come up with generic scripts to help them get through all of the calls. A simple introduction of who you are, where your calling from and what you'd like to talk about is all a freelancer needs to reveal while cold calling. Even if a freelancer is actively selling something, this information should not be revealed until later in the conversation after the client has agreed to speak. Having a short script prepared for voice mails is also important for freelance workers.
Tips For Cold Calling Success
Working from a list is important when making cold calls. Not only will the list help a freelancer systematically place the calls, but it will allow him or her to note the response to each call as well. Freelancers should use a professional, rather than enthusiastic "sales" tone, when making calls and should remain professional at all times. Asking if further information can be sent, rather than attempting to sell something over the phone, is also a good idea. Freelancers will likely find that few people are willing to commit to something on the spot and without looking over more information.
Following Up On Cold Calls
Freelancers who are invited to send further information to a potential client should do so immediately. Whether the information is sent via the post or via email, it should be sent within 24 hours of the call at maximum. Using an established information pack, with a generic cover letter referencing the information request, is all that a freelancer needs to send out in this instance. Checking again to make sure that this information was received, and if the potential client would like to do anything with it, is also important for freelance workers.
Cold calling is a sales technique that used to enjoy great popularity. Today cold calling may not yield many actual sales, but it is a great way for freelancers to introduce themselves and get their name, and business information, into the hands of a wider audience.
You might also like...