Freelance Workers and International Markets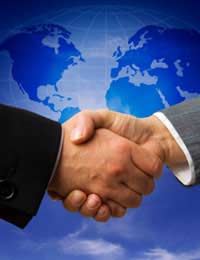 Today's freelance workers can do jobs for clients all over the world. International markets exist for a wide variety of freelance workers, but freelancers need to know how to find these markets and how to apply for this work in order to successfully capitalise on these opportunities. Freelance workers should also understand tax and pay issues related to international markets before deciding to take the plunge with these markets.
Finding International Freelance Markets
Finding international freelance markets is much easier now that the Internet connects most of the world. Freelance job sites provide market information for many types of freelance workers, as do a plethora of 'blogs run by these very freelance workers.
Companies, corporations, organisations, charities, educational institutions and various other groups may also publicise freelance work on their websites, and there are free and subscription email newsletters and email loops that carry information on international markets as well. Some sites have subscription fees attached to them, and some sites require members to bid on jobs around the world. Trade journals and magazines dedicated to particular types of work may also carry market information from around the world.
Applying For International Freelance Work
Applying for international freelance work requires confidence and knowledge of what is expected in different markets. Doing research to find out going rates in different markets is imperative to knowing whether or not a suggested compensation is fair for a job done in a foreign market. This may require poking around job sites or getting in contact with freelancers who routinely work in such markets.
Joining professional organisations or freelance organisations with branches worldwide may also make this research easier. Changing spellings may also be an issue, for example if a job is being completed for an American client.
Understanding terms used around the world is also important, such as what would be meant if a resume was requested rather than a CV. This will also be helpful when searching for international markets, for example if searching for "journalist" "writer" and "creative nonfiction writer" all mean different things within the worldwide freelance writing community and understanding this will help in the search for viable international markets.
Tax And Pay Issues Related To International Markets
Working within international markets means receiving payment in many different currencies. Freelancers should be aware of this, and also of the fees and delays that might be associated with accepting international payments. Some freelancers turn to Paypal (www.paypal.com) in order to accept international payments with minimal fuss. Others prefer to have payment sent directly to their bank account or to have a cheque sent to them.
Payments that arrive from international markets are still taxable as part of a freelancer's income, and a freelancer may even have to file paperwork regarding taxes in the country from which the payment was sent. Freelancers who are uncertain about their tax responsibilities should consult an accountant.
Modern freelance workers can find jobs in a variety of international markets. Understanding where to find these jobs, how to apply for these jobs and the tax and pay issues related to these jobs are all important for freelance workers considering working in foreign markets.
You might also like...