Time Management and Deadlines as a Freelancer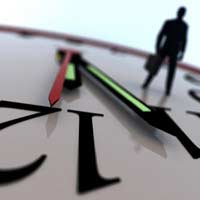 Good time management and the ability to meet deadlines are essential for the modern freelancer. In fact, on some projects these two aspects are just as important as the final work that a freelancer produces. Some tried and true time management techniques help many freelancers stay focused, and setting deadlines, mini deadlines and meeting deadlines are also incredibly important for any type of freelance work.
Time Management Techniques
There are a variety of time management techniques that can be of use to freelancers. It can be hard to manage a variety of projects – and juggle all of the time and resources needed to complete them – so subscribing to tested methods of time management should be able to help freelancers deal with everything that they have on their plates. Using an egg timer to block off time for quiet reading or writing, using a daily planner to block off hours for both work and personal time, drawing up a daily to do list, answering email and phone messages only during designated times, using email templates and signatures so as not to type out the same information over and over, tracking "wasted time" for a week and making adjustments and ruthlessly prioritising pressing matters over enjoyable matters are all ways that freelancers can practice how best to manage their time.
Setting Deadlines
Very often freelancers will be asked when they can have a project done. In one way this is great as it allows freelancers to manage their own schedules and set their own timeframes, but on the other it means that freelancers must be aware of how long certain tasks will take and how well these tasks will fit into their existing schedules. In order to make a best estimate and set a realistic deadline, freelancers must make sure that they know exactly what is wanted from them, exactly what will be needed to produce this outcome and exactly how long all of the subsections will take in order to complete the entire project.
Setting Mini-Deadlines
Setting min-deadlines is a kind of pseudo time management technique that forces freelancers to break up large projects into manageable subsections. By setting mini-deadlines for different sections freelancers can guarantee that they will be working towards completing the whole project on time. Some freelancers even prefer to set these mini-deadlines with their clients so that they have an extra layer of responsibility regarding when they will have certain work finished.
Meeting Deadlines… Or Not
It goes without saying that freelancers must meet their deadlines. It may be a contractual requirement and it is certainly an integral part of building a good reputation. However, emergencies do arise so if a freelancer can not meet a deadline (s)he should let the client know as soon as possible. In some instances extensions may be granted, but no matter what the freelancer should be able to offer an alternative date for which they will be able to finish the work.
Freelance workers must have good time management skills and be able to meet deadlines. By testing out a few traditional time management techniques, setting their own deadlines, setting mini-deadlines and keeping clients informed of their progress freelancers should be able to stay focused and finish projects by the agreed upon dates.
You might also like...