Finance Tools and Software for Freelancers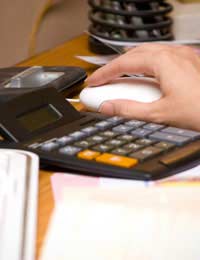 A freelancer today has many options for finance management. There are a variety of tools and software packages available to help freelancers keep track of their finance information, and many of them were designed specifically for freelance and small business owners. Most of these options are Internet or computer-based, so a modern office is essential for freelancers who want to efficiently manage finance related information.
Finance Tools for Freelancers
There are many Web-based tools available to help today's freelancers with their budgets and other financial tasks. For example, PayPal can help them invoice, collect and track payments from clients. Wesabe is a Web application that allows freelancers to keep track of their out-going money, and the Universal Currency Converter allows freelancers to access current currency conversion information to better work out foreign payments or fees. Escrow can help freelancers keep themselves and their clients safe from fraud payments, and Moneybookers can help freelancers expand around the world while making sure that payments and acceptances are safe and secure. Tools for project design, marketing, networking, storage and more are also available to freelancers looking to move more than just the finance side of their business online.
Finance Software for Freelancers
Freelancers can use both personal finance and business finance software programmes to look after their financial data. These programmes can help freelancers create budgets, track expenditure, track payments, create and send invoices and more. Software options will differ depending on whether a freelancer uses Apple computers or a Windows based computer platform. QuickBooks, Quicken and Excel spreadsheets are just a few popular software options that freelancers often explore to help them deal with their finances. Many freelancers also turn to Open Source accounting software to help their businesses as well. Open Source software is generally created by individuals who could not find what they were looking for in software created by leading companies and offer this software to others for free. Freelancers often try these programmes first in order to save money and explore the benefits of such software before moving along to other software as their businesses grow.
Modern Offices for Freelancers
Freelancers looking to take advantage of online finance tools or dedicated finance software should invest in the best computer and Internet connection that they can afford. Making sure that a computer has adequate memory to hold files and software, as well as an Internet connection that allows easy access to online tools may cost more as an initial investment, but should save freelancers time and money later on. Freelancers may also find that keeping one computer specifically for finance matters is a good idea. This computer and its files can be password protected and allow freelancers to feel more confident in the security of their business files.
A variety of tools and software options exist to help freelancers with their finances. Online tools, personal software, professional software and Open Source software are all available to freelancers, so making sure that they have the best computer and Internet connection possible is also important for freelancers.
You might also like...