How to Deal with Non Paying Clients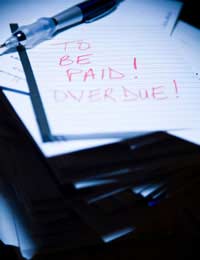 Freelancers the world over will agree: having to deal with late payments is one of the worst aspects of this kind of work.
Outstanding payments can happen at any time, with any clients, and unfortunately there is never a guarantee that an outstanding payment will ever be paid. The best way to deal with non paying clients is to document everything from the start, act as soon as an invoice is due and involve others if the need arises.
Document Everything From The Start
Freelancers can never be too careful when it comes to their money. Prior to agreeing to a project freelancers should negotiate their fees and get the client's agreement in writing. This may be in the form of a contract, but even saving emails in which money is mentioned and fees are agreed could be important in order to deal with non paying clients later.
Some freelancers may even decide to ask for a percentage of the money up front to make sure that they get at least a little bit of their payment should a client not pay them at a later date. Others may also advise clients early that overdue invoices will involve extra late payment fees as a means of warning them not to be late with payments.
Act As Soon As An Invoice Is Due
Freelancers who want their payments on time need to make sure that their invoices are on time. This will help freelancers deal with non-paying clients as there will be no reason that clients can not make payments on the dates agreed.
If a payment does not arrive when it should, freelancers should send out another invoice advising clients that their payments are overdue. If the payment still is not made then freelancers can invoice one final time and let clients know that they will have to refer the matter to their legal "team" if payment is not made quickly. However, a freelancer who threatens further action should be prepared to follow through or else their credibility will be ruin with that particular client and future threats will hold little meaning.
Involve Others As Needed
If a client repeatedly ignores a freelancer's invoices and overdue payment letters then it may be that the best way to deal with the situation is to turn it over to professionals.
Depending on the freelancer's location and situation they may be able to turn the matter over to their solicitors, to debt collection agents or take a client to some form of small claims court themselves. At this point freelancers should remain professional when dealing with non paying clients in order to preserve their professional reputation, however they will want to think hard about whether or not they work with these clients again in the future.
Having to deal with non paying clients is never fun. In order to make this process as smooth as possible freelancers should document everything regarding payment at the start, act as soon as an invoice is due and involve others as needed.
You might also like...