Outsourcing Overflow Freelance Work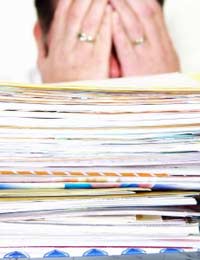 Outsourcing overflow freelance work may seem like a great situation in which to find yourself – after all, it means you have too much work to finish it all by yourself. But outsourcing overflow freelance work can be fraught with perils. To begin with, you'll need to make sure that outsourcing work is acceptable to your client or you risk ruining your relationship with him or her. You'll also need to be confident in the work of the freelancer to whom you choose to outsource. Finally, you'll need to leave yourself enough time to re-integrate the outsourced work into your final project so that it is as seamless and perfect as possible for your client.
Make Sure That Outsourcing Work Is Acceptable
In some professions, such as freelance writing, editing or translating, outsourcing work can be quite common when a freelancer takes on too much. In fact, some freelance workers could probably outsource work without their clients ever really finding out. However, if you choose to outsource and don't tell your client then you'll run the risk of breaking their trust and possibly even your contract. Instead, let your clients know that sometimes work may be outsourced during busy periods, that the outsourced work will be completed to your own high standard and that you will be personally responsible for the finished project.
Some clients may be comfortable with outsourcing and some may not, so remain sensitive to your clients' wants and needs.
Be Confident In The Work Of Other Freelancers
If you decide to outsource some freelance work, only do so to freelancers you can trust to provide high quality work, provide the work to your spec and provide the work by your stated deadline. There's no point in outsourcing work that you will have to do over again or that will hold up the rest of your project, so if you can not be confident in the work of other freelancers then you should not be outsourcing to them. Also, make sure you state the fee that the other freelancers will receive upfront. For other freelancers outsourced work is the same as any other project and the payment fee and schedule should reflect this for them.
Re-Integrate Outsourced Work Into The Final Project
When outsourced work comes back to you, you must take the time to look it over carefully and re-integrate it back into the final project seamlessly.
Clients will not be impressed with a project that obviously looks as though it was completed in chunks by different freelancers, and if they wanted that kind of work they would have divided it up themselves in the first place. Avoid this scenario by setting deadlines for outsourced work early and allowing yourself plenty of time to string together your work with that of your fellow freelancers. At the end of the day you will be held responsible for the entire project, so make sure that it is something you will be proud with which to have your name associated.
Outsourcing overflow freelance work can be tempting when a freelancer has a lot on. However, work should only be outsourced if you are sure that it is acceptable to your client, you can trust the work of the freelancers to whom you outsource and you are confident that you can re-integrate the outsourced work seamlessly back into the final project.
You might also like...