Networking and Freelance Workers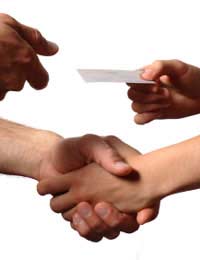 Networking, or expanding your social circle to include new relationships and social networks, is a fact of modern freelance life. Networking is a way for all freelance workers to make new contacts, socialise with fellow freelancers, hear about new markets and possibly even line up some new clients and more work.
Networking allows freelance workers to discuss their work, gain support and advertise their skills and services. For the most successful networking possible, freelance workers should learn how to target networking opportunities, make the most of networking opportunities, and engage in cyber-networking.
Targeting Networking Opportunities
It would be impossible for a freelance worker to take advantage of every networking opportunity that presented itself, and most wouldn't want to be away from their work that much anyway. It becomes important then for freelancers to specifically target networking opportunities that they think will be worthwhile. In general, an event might be worthwhile for networking if there will be a large mix of people attending, if there will be a number of other freelancers attending, if it is known that potential clients will be attending, or if there will be information or advice given (such as at a workshop or seminar) that will help a freelancer build his or her business.
Making The Most Of Networking Opportunities
When you are ready to network, make sure that you can make the most of your opportunity. Bring a stack of business cards with you and keep a pen on hand to write a little note on the back of each. Make sure that you have your mobile with you to input new numbers and if you are attending a seminar or workshop don't forget to bring all of the suggested materials as well as paper, pens and/or your laptop.
Remember too that when you meet someone face to face both your image and your body language will convey a sense of you. Wear a neat, clean, appropriate outfit to each event and carry your materials in a professional tote or case. If you are unsure of the dress code, err towards being more formal than necessary rather than less formal.
Also remember to hold yourself erect, keep your head held high, make eye contact when you speak and always keep a professional distance so that you do not invade anyone's personal space. Make sure your breath is fresh, you do not wear too much scent and you feel comfortable and confident throughout.
Engaging In Cyber-Networking
Today, freelancers can find support in many sources and one of these is from online networking. Also called cyber-networking, networking online takes place on websites, in chat rooms, on forums, on loops and even via email. For many freelancers, getting started with cyber-networking is as easy as exploring some different sites and joining in ongoing conversations. Some sites and services may require a subscription fee and membership. Freelancers may also find that they begin cyber-networking when they set up their own website, 'blog' or email newsletter.
Networking is important for freelance workers. Targeting specific networking opportunities, arriving prepared for these opportunities and engaging in cyber-networking should help freelancers make the most of their networking efforts.
A FREELANCE WORKER IS FOR SALE.
This website is for sale [more info].
You might also like...