Creating Freelance Networking Opportunities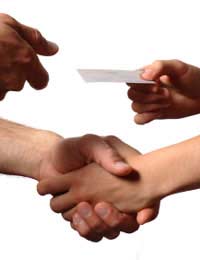 Rarely does the chance to network with potential clients or other professionals fall into a freelancer's lap - or does it?  With the right mindset, and a few key supplies, a freelancer can turn almost any social activity into a chance to network with others.  Not to mention that attending professional events gives freelancers a chance to mingle with others and network at will, or that online networking allows freelancers to connect with others at any time of the day or night.  In fact, creating freelance networking opportunities will be easy for the freelancer who enjoys getting to know others.
Freelance Networking Supplies
No freelancer should be without three modern networking essentials: a website, an email address and a business card on which to print this information.  These three things cover online networking and all types of person-to-person networking so there's never any reason that a new contact can't find freelancers when (s)he needs them.  Many freelancers also like to have a supply of promotional items that they can give out as well.  Pens, pencils, bookmarks, small calendars and magnets emblazoned with a freelancer's contact information are all small items that can be given out casually and may be of use to potential clients, while larger items such as branded tote bags, travel mugs and water bottles can be useful at more dedicated networking events.  
Freelance Networking At Social Activities
Some freelancers find it hard to slip a little networking into a social event such as a friend's dinner party or a child's soccer match.  But even these casual situations can be a great time for a freelancer to engage in new conversations and ask others what they do.  When someone asks what the freelancer does in return, it's the perfect opportunity to give a brief description (sometimes referred to as an "elevator pitch") and pull out a business card.  Events at local schools and in the local community can be great places for networking with others, particularly for freelancers who have already worked out how their skills could serve the community, while striking up conversations will local businesspeople, from servers at a cafe to the owner of the local dry cleaners, may help net new clients as well.  Just a word of warning though: freelancers who would like to gain clients in their communities should make every attempt to become a real part of those communities, otherwise they could come off as somewhat predatory.
Freelance Networking At Professional Events
Attending professional events for freelance workers or within the freelancer's broader industry are both great places to make professional contacts but attending professional events in other industries will help freelancers come into contact with even more potential clients.  For example, a freelance photographer may well attend freelance worker events and events within the photography industry, but attending an event for professional caters could help that photographer gain new clients for food photography.  At such events it will be the "down" times that are most valuable to freelancers looking to network, such as having a quick cup of tea during registration or mingling with others during the lunch break.  Chatting with others before and after presentations, and inviting others for a quick drink or dinner will also allow freelancers time to make new contacts.  
Freelance Networking Online 
Online networking is a great way for freelancers to gain contacts a little further afield.  While there are dedicated social networking and business networking sites with which freelancers can register and keep track of contacts there are also informal ways that freelancers can put themselves on others' radars.  Blogging, leaving comments on blogs, participating in forums and even designing and sending personal newsletters are all ways that freelancers can create networking opportunities online.  However, freelancers should remember that everything they do online may be accessed by potential clients.  This means that freelancers should try to keep their "cyber footprints" professional, and present the same information about themselves at all sites.  A good rule of thumb for freelancers who engage in networking online is "if you don't want a client to see it, don't do it!"
Creating freelance networking opportunities requires effort but with a little creativity opportunities for making new contacts and clients abound.  With the right supplies freelancers can turn a social activity, professional event or even their time spent online into fruitful networking opportunities.
You might also like...