Leasing a Freelance Office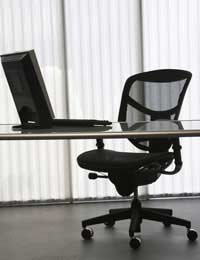 Some freelance workers find that they can not work from home. For whatever reason, their freelance work does not get done and they need to find a workspace more suitable for their business needs. For some freelancers this may mean the local library or coffee shop, but for others it may mean a dedicated office.
Leasing an office is a great idea for freelancers who like to separate their freelance work from their private life, and who don't have the room or the inclination to work from home. If you are considering leasing a freelance office, make sure to take into account the cost of the office, the length of the lease, the location of the office and your privacy at the office before making any firm decisions.
Cost Of The Office
A freelancer worker's wage is always in flux. Future work is rarely guaranteed, even committed clients won't always need the same amount of work each month or year, and freelance payments are often "in the mail" but not always in the bank account. For these reasons, many freelance workers are wary of taking on a fixed, consistent cost such as the cost of leasing an office. Only once you run the numbers of your freelance income and discover how much you have after your other necessities – mortgage/rent on your home, food, taxes, clothing, etc. – should you consider adding in the cost of leasing an office. If you find you have a finite amount for these payments then you might consider a short lease to help you through a particular time period.
Length Of The Lease
A lease for a freelance office may be long or short. That is, you may be able to contract for a lease on the office for a year, for a week or for anywhere in between. You may also find that the lease includes office furniture and equipment, or it includes only the actual office space. If you know that you only need an office for a set amount of time, or you know that you require a furnished or serviced office, then let your estate agent know this at the start so that you do not waste time look at unsuitable spaces.
Location Of The Office
To keep your costs minimal, look for an office that is close to your home. This will help you cut down on commuting costs, and time spent commuting that could otherwise be used to grow your freelance business and make money. The only exception to this would be if you want an office in a particular area and know that you can afford it. If you view having an office at a particular address as a business investment, and it is one that you know you can afford, then there's probably no reason this shouldn't be a good fit for you.
Privacy At The Office
Some freelance workers want to lease an office so that they can escape the isolation of their home and have a change of scenery when they get to work. But, the change of scenery may bring officemates. If you are looking at leasing a shared office, or leasing a desk or workspace at a large facility, then you will want to review the privacy codes of these offices. Find out if you can lock things in a desk, save things to a particular computer and/or lock the door of a particular room – and who else can as well. If you aren't particularly impressed with the privacy arrangements at a potential office, scrap it and continue looking.
Leasing a freelance office is a personal decision. The cost of the office, length of the lease, location of the office and privacy at the office are all factors that should be taken into account when a freelancer is deciding whether or not to lease an office.
You might also like...